Mediterranean food is loved by many people around the world for its flavorful and healthy ingredients, but when it comes to the origins of this cuisine, the question arises – is Mediterranean food Greek? While Greece is undoubtedly one of the countries that have significantly contributed to Mediterranean cuisine, it is just one piece of the puzzle. The Mediterranean diet is not limited to Greek food alone but encompasses a variety of dishes and culinary traditions from different regions. In this blog post, we'll explore the origins of Mediterranean cuisine and the influences that have shaped it into what we know and love today. Join us on this culinary journey as we unravel the mysteries of Mediterranean food and discover what makes it so delicious and diverse.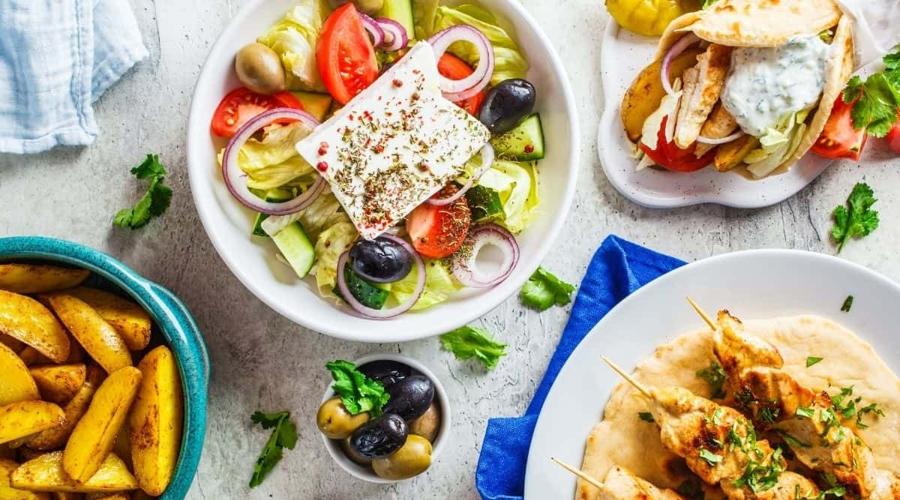 Advantages of Mediterranean Food Greek
Nutritious ingredients: Greek Mediterranean food typically features fresh, whole foods that are rich in nutrients, such as vegetables, fruits, whole grains, legumes, and lean protein sources like fish and chicken. This can lead to a healthy and balanced diet.
Heart-healthy: Greek Mediterranean cuisine is known for its heart-healthy benefits, thanks to the use of healthy fats like olive oil, nuts, and seeds, as well as plenty of fiber from fruits and vegetables. Research suggests that following a Mediterranean-style diet can reduce the risk of heart disease.
Delicious flavors: Greek cuisine is famous for its bold flavors and aromas, with the use of herbs and spices like oregano, mint, and cinnamon, as well as tangy ingredients like lemon and feta cheese. This makes Greek Mediterranean food a tasty and satisfying choice.
Versatility: Greek Mediterranean food can be adapted to suit a range of dietary preferences and restrictions, such as vegetarian or gluten-free diets. With a focus on fresh ingredients and simple preparation, it is easy to customize Greek Mediterranean dishes to suit individual tastes and needs.
Cultural heritage: Greek Mediterranean food is a rich and vibrant part of Greek culture, with a long history and tradition behind it. Enjoying Greek cuisine can be a way to connect with the country's cultural heritage and learn about its customs and traditions.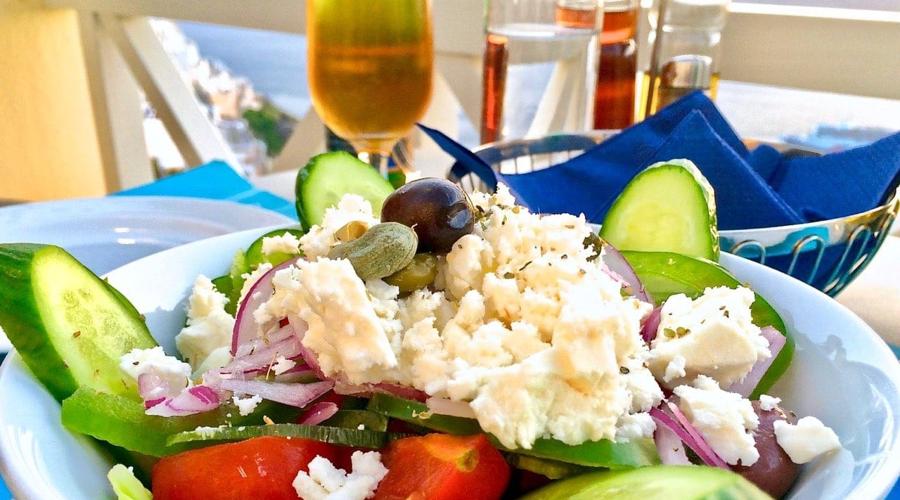 Ingredients of Mediterranean Food Greek
Olive oil
One of the hallmarks of Greek Mediterranean cuisine is the use of olive oil as the primary cooking oil. Olive oil is rich in heart-healthy monounsaturated fats and adds a distinctive flavor to dishes.
Vegetables
Greek Mediterranean food places a strong emphasis on vegetables, including tomatoes, cucumbers, eggplants, peppers, onions, and leafy greens like spinach and arugula. These vegetables are often eaten raw in salads or roasted and grilled as side dishes.
Fruits
Fruits are also an important part of Greek Mediterranean cuisine, with popular options including grapes, figs, pomegranates, and citrus fruits like lemons and oranges.
Legumes
Legumes like lentils, chickpeas, and beans are a good source of protein and fiber in Greek Mediterranean cuisine. They are often used in salads and stews, as well as in dips like hummus.
Fish and seafood
With its long coastline, Greece has a rich tradition of seafood dishes. Popular options include grilled fish, octopus, calamari, and shrimp.
Cheese
Feta cheese is a staple in Greek Mediterranean cuisine, but other cheeses like kasseri and kefalotyri are also used. Cheese is often used in salads, pies, and baked dishes.
Herbs and spices
Greek Mediterranean cuisine relies on a variety of herbs and spices to add flavor to dishes. Popular options include oregano, thyme, basil, mint, garlic, and lemon.
Grains
Whole grains like bulgur, farro, and barley are often used in Greek Mediterranean cuisine, as are bread like pita and flatbread.
Nuts and seeds
Nuts and seeds like almonds, walnuts, sesame seeds, and sunflower seeds are often used to add crunch and flavor to dishes. They are also a good source of healthy fats and protein.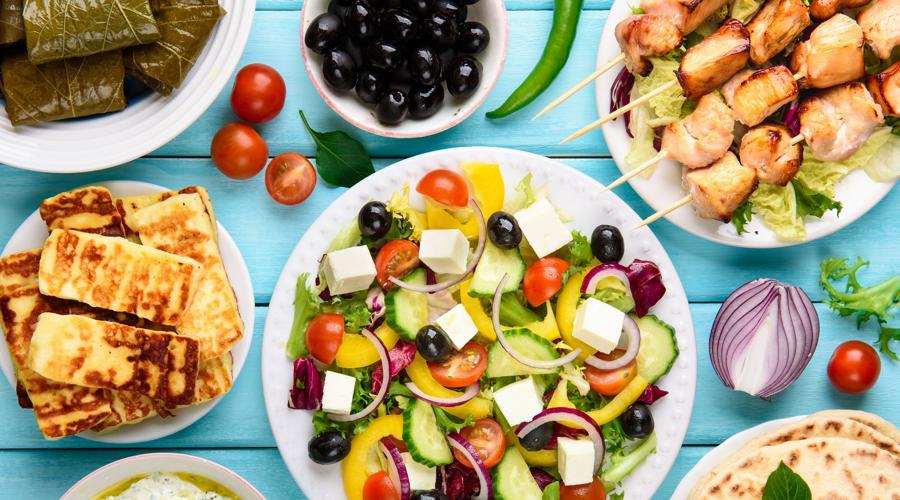 Tips for Mediterranean Food Greek
Use fresh ingredients: Greek Mediterranean cuisine relies on fresh, seasonal ingredients for maximum flavor and nutrition. Look for ripe, colorful produce and quality meats and seafood.
Incorporate healthy fats: Greek Mediterranean cuisine is rich in healthy fats like olive oil, nuts, and seeds, which can help reduce inflammation and improve heart health. Use these ingredients generously in your cooking.
Add herbs and spices: Herbs and spices are a hallmark of Greek Mediterranean cuisine, adding depth and complexity to dishes. Experiment with different herbs and spices, such as oregano, basil, cinnamon, and cumin, to discover new flavor combinations.
Try new dishes: Greek Mediterranean cuisine offers a wide variety of dishes to try, from traditional Greek salads and moussaka to less well-known dishes like spanakopita and pastitsio. Explore new recipes and ingredients to keep things interesting.
Embrace simplicity: Greek Mediterranean cuisine is all about simple, wholesome ingredients and straightforward preparation. Don't overcomplicate dishes with too many ingredients or techniques. Let the natural flavors shine through.
Pair with wine: Greek Mediterranean cuisine is often enjoyed with wine, particularly red and white wines from Greece. Look for options like Assyrtiko, Xinomavro, and Agiorgitiko to complement your dishes.
Share with others: Greek Mediterranean cuisine is often enjoyed in a social context, with dishes served family-style and shared among diners. Embrace this spirit of togetherness and share your dishes with friends and family.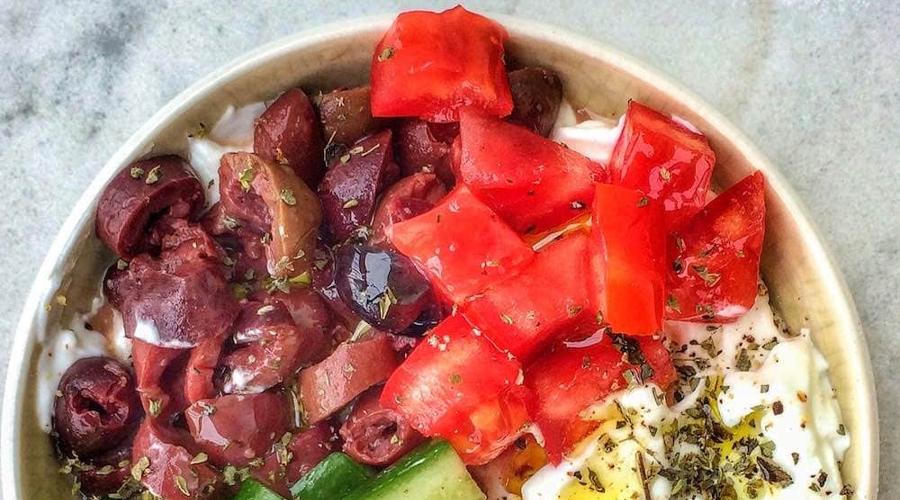 In conclusion, while Greece has undoubtedly had a significant impact on Mediterranean cuisine, the answer to the question "Is Mediterranean food Greek?" is not as straightforward as it may seem. Mediterranean cuisine is a diverse and complex amalgamation of different culinary traditions and influences from around the region, including those from Greece, Italy, Spain, and the Middle East.
Greek Mediterranean cuisine is known for its emphasis on fresh, whole foods, healthy fats, and bold flavors, but it is just one part of the larger tapestry of Mediterranean cuisine. Whether you are enjoying a traditional Greek dish or trying a new Mediterranean-inspired recipe, the rich and diverse flavors of this cuisine are sure to satisfy your taste buds and nourish your body.